In the Minds of People. Port-City Perspectives, the Case of Rotterdam
Keywords:
port-cities, mental mapping, public space, port-city models, urban design, urban development, Rotterdam, networks of public space
Abstract
Following the geographical 'Any-Port Model', urban design has stipulated and enforced the disunion of port and city over the recent decades. In conjunction with other disciplines, the emphasis has laid at dislocation of production activities in favor of logistic-productive dynamics. At the same time, professional focus was on the urban areas where most citizens are. While this practice has led to redevelopment of abandoned harbor areas too, foremost the approach stimulated stronger physical boundaries between lived city and the remaining and new harbor areas. This article describes the application of the dominant model in Rotterdam over the recent decades, on the base of literature review, and, it confronts this with the concepts of Rotterdam which are in the minds of professionals-in-training, through method of 'mental mapping'. On the one hand, mainly harbor areas are memorized when respondents are asked to draw the port-city of Rotterdam, even though its efficient port infrastructure makes public space in these areas rare, and most harbors are located behind inaccessible borders. On the other hand, civic areas, which have a refined network of public spaces and are places for daily life, reveal also all kinds of tangible and intangible signs and symbols related to characteristics of the port-city when memorized; even more. Various elements, linked to water-land or the flows of goods, people, and ideas, dominate the minds of the people when they think of Rotterdam in general. These outcomes reconfirm the unique unity of port and city and provide a way to find an alternative or supplementary model accepting the complex nature of port-cities.
References
Aarts, Martin. Vijftig Jaar Wederopbouw Rotterdam: Een Geschiedenis van Toekomstvisies. Rotterdam: Uitgeverij 010, 1995.
Appleyard, Donald, Kevin Lynch, and John R. Myer. The View from the Road. Cambridge, MA: M.I.T. Press, 1964.
Banks, Sarah, Hugh Butcher, Andrew Orton, and Jim Robertson, eds. Managing Community Practice (Second Edition): Principles, Policies and Programmes. 2nd edition. Bristol: Policy Press, 2013.
Berman, Tal. Public Participation as a Tool for Integrating Local Knowledge into Spatial Planning. Cham: Springer International Publishing, 2017. https://doi.org/10.1007/978-3-319-48063-3.
Bird, James. The Major Seaports of the United Kingdom. London: Hutchinson & Co, 1963.
Bonillo, Jean-Lucien, André Donzel, and Mario Fabre, eds. Métropoles portuaires en Europe: Barcelone, Gênes, Hambourg, Liverpool, Marseille, Rotterdam. Les Cahiers de la Recherche Architecturale 30/31. Marseille: Ed. Parenthèses, 1992.
Boring, Edwin G. The Physical Dimensions of Consciousness. New York; London: The Century Co., 1933.
Bourdieu, Pierre. La Distinction. Critique sociale du jugement. Paris: Les Editions de Minuit, 1979.
Canter, David V. The Psychology of Place. London: The Architectural Press, 1977.
Carmona, Matthew, Tim Heath, Taner Oc, and Steve Tiesdell. Public Places Urban Spaces: The Dimensions of Urban Design. Oxford: Architectural Press, 2003.
De Brauw, Blackstone, Westbroek. "Akte van Oprichting Havenbedrijf Rotterdam NV, versie d.d. 23/28-12-2003, including Operationele Havenovereenkomst, with Ontvlechtingsdocument." 503|10691987|statute|231203_statuten.714.doc. Amsterdam: De Brauw, Blackstone, Westbroek, December 30, 2003.
Dienst Stedenbouw en Volkshuisvesting. "De Kop van Zuid: Buitenruimte." Rotterdam: Dienst Stedenbouw en Volkshuisvesting, 1991.
———. "Stadsplan Rotterdam: Een Visie op de Ruimtelijke Ontwikkeling van Rotterdam tot 2005."Rotterdam: College van Burgemeester en Wethouders van de Gemeente Rotterdam, Dienst Stedenbouw en Volkshuisvesting, 1992.
Downs, Roger M., and David Stea. Maps in Minds: Reflections on Cognitive Mapping. New York: Harper & Row, 1977.
Fanghanel, Joëlle. "The Role of Ideology in Shaping Academics' Conceptions of Their Discipline." Teaching in Higher Education 14, no. 5 (2009): 565–77. https://doi.org/10.1080/13562510903186790.
Gemeentewerken Rotterdam. "Beleidsrapport Onderhoud Buitenruimte Havengebied 1997-2001 (concept)." Rotterdam: Gemeentewerken Rotterdam, January 1996.
Gould, Peter, and Rodney White. Mental Maps. Pelican Geography and Environmental Studies.
Harmondsworth: Penguin, 1974.
Havenbedrijf Rotterdam. "Havenvisie 2030: Port Compass 'Direct the Future. Start Today.'" Rotterdam:
Havenbedrijf Rotterdam, November 15, 2011.
Hein, Carola. "Port Cities." In The Oxford Handbook of Cities in World History, edited by Peter Clark, 809–27. Oxford: Oxford University Press, 2013. https://doi.org/10.1093/oxfordhb/9780199589531.013.0043.
Hoyle, Brian Stewart. "The Port-City Interface: Trends, Problems and Examples." Geoforum 20, no. 4 (1989): 429–35. https://doi.org/10.1016/0016-7185(89)90026-2.
Jacobs, Brian. "Rotterdam Scenarios." In Trategy and Partnership in Cities and Regions: Economic Development and Urban Regeneration in Pittsburgh, Birmingham and Rotterdam, by Brian Jacobs, 140–60. London: Palgrave MacMillan, 2000. https://doi.org/10.1007/978-1-137-05184-4_8.
John-Steiner, Vera. Notebooks of the Mind: Explorations of Thinking. Albuquerque: The University of New Mexico Press, 1985.
Kreukels, Ton, and Egbert Wever. "Dealing with Competition: The Port of Rotterdam." Tijdschrift Voor Economische En Sociale Geografie 87, no. 4 (1996): 293–309.https://doi.org/10.1111/j.1467-9663.1998.tb01560.x.
Laar, Paul Th. van de. Financieringsgedrag in de Rotterdamse Maritieme Sector, 1945-1960. Tinbergen Institute research series, no. 17. Rotterdam: Erasmus University, 1991.
Larice, Michael, and Elizabeth Macdonald, eds. The Urban Design Reader. 2nd Edition. New York: Routledge, 2013. https://doi.org/10.4324/9780203094235.
Lynch, Kevin. The Image of the City. Cambridge, Mass.: MIT Press, 1960.
Marinke, Steenhuis, de Langen Peter, de Kruif Frank, Voerman Lara, Vries Isabelle, and Witsen Peter P. The
Port of Rotterdam: A World between City and Sea. Rotterdam: NAi010 Publisher, 2015.
Meyer, Han. City and Port: Urban Planning as a Cultural Venture in London, Barcelona, New York, and Rotterdam : Changing Relations between Public Urban Space and Large-Scale Infrastructure. Utrecht: International Books, 1999.
———. De Stad en de Haven: Stedebouw als Culturele Opgave in Londen, Barcelona, New York en Rotterdam:
Veranderende Relaties tussen Stedelijke Openbare Ruimte en Grootschalige Infrastructuur. Utrecht: Uitgeverij Jan Van Arkel, 1996.
Meyer, Han, Anne Loes Nillesen, and Wil Zonneveld. "Rotterdam: A City and a Mainport on the Edge of a Delta." European Planning Studies 20, no. 1 (January 2012): 71–94. https://doi.org/10.1080/09654313.2011.638498.
Miller, George A. "The Magical Number Seven, plus or Minus Two: Some Limits on Our Capacity for Processing Information." Psychological Review 63, no. 2 (March 1956): 81–97. https://doi.org/10.1037/h0043158.
Moretti, Beatrice, Susanne Komossa, Nicola Marzot, and Carmela Andriani. "States of Co-Existence and
Border Projects in Port Cities: Genoa and Rotterdam Compared." Urban Design and Planning 172, no. 5 (October 2019): 191–202. https://doi.org/10.1680/jurdp.18.00037.
Moughtin, J. C., Rafael Cuesta, Christine Sarris, and Paola Signoretta. Urban Design: Method and Techniques. Oxford: Architectural Press, 2003.
Neutelings, Willem Jan. Tapijtmetropool in the Regio Den Haag en Rotterdam. 1990. Drawing. Nieuwe Instituut, Rotterdam: NEUR.t4.
Ontwikkelingsbedrijf Rotterdam. "Naar een Economische Visie voor (de stadsregio) Rotterdam: Vier Scenario's: Rotterdam Wereldwijd. Rotterdam Geketend, Rotterdam Ontkoppeld, Rotterdam Getalenteerd." Rotterdam: Ontwikkelingsbedrijf Rotterdam [OBR], 1995.
Palmboom, Frits. Rotterdam, Verstedelijkt Landschap. Rotterdam: Uitgeverij 010, 1987.
Pauwels, Luc. "An Integrated Conceptual and Methodological Framework for the Visual Study of Culture and Society." In The SAGE Handbook of Visual Research Methods, by Luc Pauwels and Dawn Mannay, 14–36. Los Angeles, CA: SAGE Publications, 2020. https://doi.org/10.4135/9781526417015.n2.
Programmabureau Stadshavens Rotterdam. "Stadshavens Rotterdam. Structuurvisie." Rotterdam: Programmabureau Stadshavens Rotterdam, incl. Havenbedrijf Rotterdam N.V. and Municipality of Rotterdam, September 29, 2011.
Schmidt, Jeff. Disciplined Minds: A Critical Look at Salaried Professionals and the Soul-Battering System That Shapes Their Lives. Lanham: Rowman & Littlefield Publishers, 2001.
Sheppard, Mark. Essentials of Urban Design. Clayton South: CSIRO Publishing, 2015. https://doi.org/10.1071/9780643108776.
Solomon, Les. "Mental Mapping: A Classroom Strategy." Journal of Geography 77, no. 2 (February 1978): 70–75. https://doi.org/10.1080/00221347808980076.
Standing, Lionel. "Learning 10000 Pictures." Quarterly Journal of Experimental Psychology 25, no. 2 (May 1973): 207–22. https://doi.org/10.1080/14640747308400340.
Venturi, Robert, Denise Scott Brown, and Steven Izenour. Learning from Las Vegas. Cambridge, Mass.: M.I.T. Press, 1972.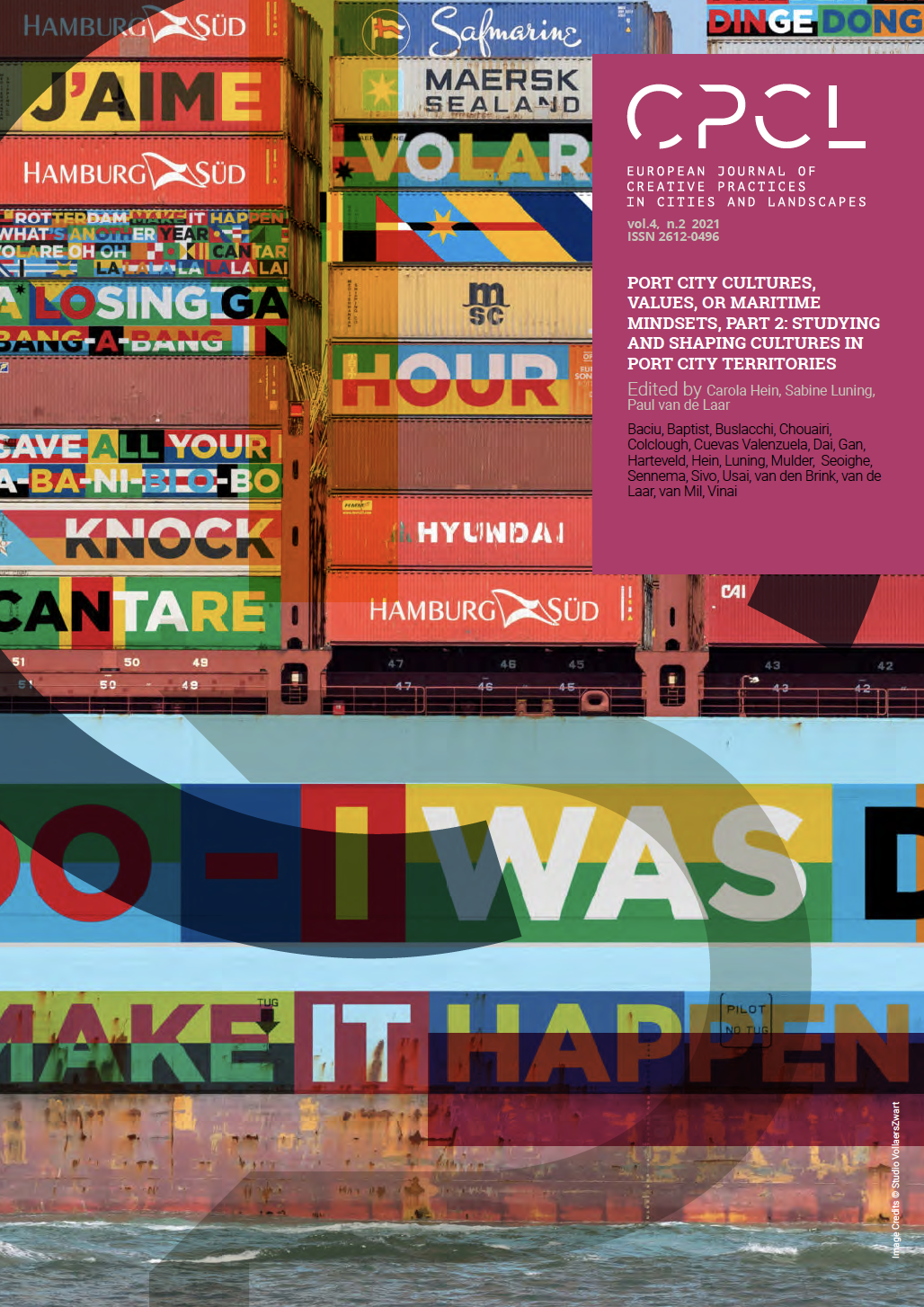 Downloads
How to Cite
Harteveld, M. (2021). In the Minds of People. Port-City Perspectives, the Case of Rotterdam. European Journal of Creative Practices in Cities and Landscapes, 4(2), 60–81. https://doi.org/10.6092/issn.2612-0496/12380
License
Copyright (c) 2021 Maurice Harteveld
This work is licensed under a Creative Commons Attribution 4.0 International License.