Co-Designing the Accessibility: from Participatory Mapping to New Inclusive Itineraries Through the Cultural Heritage of Bologna
Keywords:
Accessibility, co-design, citizens engagement, cultural heritage, participatory mapping
Abstract
Accessibility is one of the greatest challenges facing Cultural Heritage sites today. Yet, experiencing culture means being part of our society, as it brings people together, and it should be universally granted. Departing from a participatory process focusing on engaging local stakeholders to regenerate the University District by promoting its Cultural Heritage and public spaces, this paper analyses how the City of Bologna has been able to bring accessibility at the centre of its development programme. Starting from the living lab (U-Lab) created within an European funded project (ROCK), Bologna is working to remove any physical, sensorial and cultural barrier that could impede or discourage the access to the area. In doing so, all the institutions and actors involved relied on the co-design method to create a service with the ultimate aim to make the University area a Cultural District universally accessible.
References
Biscione, Marilisa, Maria Danese, and Nicola Masini. "A Framework for Cultural Heritage Management and Research: The Cancellara Case Study". Journal of Maps 14, no. 2 (13 November 2018): 576–82.
https://doi.org/10.1080/17445647.2018.1517699.
Brown, Tim, and Barry Katz. Change by Design: How Design Thinking Transforms Organizations and Inspires Innovation. Vol. 20091. HarperBusiness New York, NY, 2019.
Dane, Gamze, Soheil Derakhshan, Tahsin Ettefagh, Martina Massari, Valentina Gianfrate, and Mauro Bigi. "Participatory Mapping of Citizens' Experiences at Public Open Spaces: A Case Study at Bologna Living Lab". In REAL CORP 2020: Shaping Urban Change. Livable City Regions for the 21st Century: Proceedings of 25th International Conference on Urban Planning, Regional Development and Information Society, Wien, CORP–Competence Center of Urban and Regional Planning, 645–54, 2020.
Deffner, Alex, Eva Psatha, Nicolaos Bogiantzidis, Neoklis Mantas, Elena Vlachaki, and Polyxeni Ntaflouka. "Accessibility to Culture and Heritage: Designing for All". Proceedings of the AESOP, 2015.
Ginocchini G., Bigi M., Fabbrica F., Beolchi S., Naldi G., Caruso E., Paolazzi S., Gianfrate V., Massari M., Lorenzo V., Boulanger S., U-Lab incontri tematici Report, (2018) Available at: http://fondazioneinnovazioneurbana.it/images/PROGETTO_ROCK/20180326_Report_ULab_ESE.pdf
Kawashima, Nobuko. "AUDIENCE DEVELOPMENT AND SOCIAL INCLUSION IN BRITAIN: Tensions, Contradictions and Paradoxes in Policy and Their Implications for Cultural Management". International Journal of Cultural Policy 12, no. 1 (March 2006): 55–72. https://doi.org/10.1080/10286630600613309.
Kosmas, Panagiotis, George Galanakis, Vaso Constantinou, Giannis Drossis, Maria Christofi, Iosif Klironomos, Panayiotis Zaphiris, Margherita Antona, and Constantine Stephanidis. "Enhancing Accessibility in Cultural Heritage Environments: Considerations for Social Computing". Universal Access in the Information Society 19, no. 2 (June 2020): 471–82. https://doi.org/10.1007/s10209-019-00651-4.
Murgante, Beniamino, Giuseppe Las Casas, Maria Danese. "The Periurban City: Geo-Statistical Methods for Its Definition". Urban and Regional Data Management, 2007, 473–85.
Robles, Ana García, Tuija Hirvikoski, Dimitri Schuurman and Lorna Stokes. "Introducing ENoLL and Its Living Lab Community". European Network of Living Labs, Brussels, 2015.
Steen, K. Y. G., and Ellen Van Bueren. "Urban Living Labs: A Living Lab Way of Working", 2017.
Tancredi, Leonardo, Giuseppe Scandurra, Alessandro Tolomelli, and Elisa Castelli. Memorie di uno spazio pubblico: Piazza Verdi a Bologna. CLUEB, 2011, 7–195.
Tzanavara, Antonia, Museum and People with Disabilities: Accessibility - Education - Social Inclusion. Corinth (2013), Available at: http://thesis.ekt.gr/thesisBookReader/id/28536#page/1/mode/2up
Urban Agenda for the EU. Pact of Amsterdam, (2016), Available at https://ec.europa.eu/futurium/en/system/files/ged/pact-of-amsterdam_en.pdf
Warner, Cali. "Participatory Mapping: A Literature Review of Community-Based Research and Participatory Planning". Social Hub for Community Housing, Faculty of Architecture and Town Planning Technion, Cambridge, Massachusetts: Massachusetts Institute of Technology, 2015.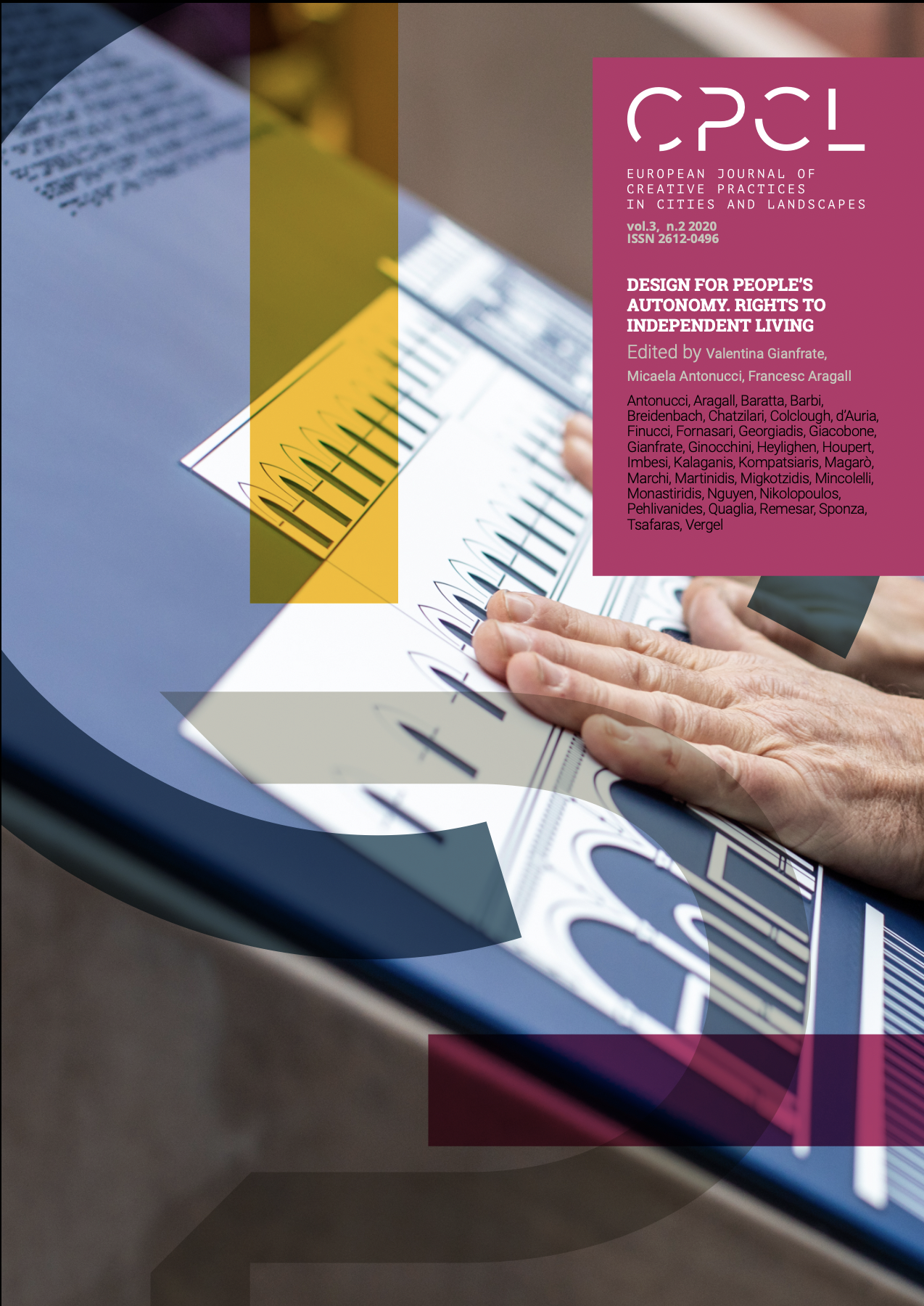 Downloads
How to Cite
Barbi, V., Ginocchini, G., & Sponza, C. (2020). Co-Designing the Accessibility: from Participatory Mapping to New Inclusive Itineraries Through the Cultural Heritage of Bologna. European Journal of Creative Practices in Cities and Landscapes, 3(2), 127–146. https://doi.org/10.6092/issn.2612-0496/12587
License
Copyright (c) 2020 Valeria Barbi, Giovanni Ginocchini, Chiara Sponza
This work is licensed under a Creative Commons Attribution 4.0 International License.