Rebranding Athens as the Creative City of European South. The Contribution of Documenta 14. A Critical Approach
Keywords:
Creative City Athens, city branding, creative-led urban renovation, post-colonial urbanism, cultural industries
Abstract
The following article presents a very brief review of the impact of the art institution Documenta on the Athenian urban environment aims to give an answer to the question of how and why the art exhibition "Learning from Athens" gained such popularity in urban and economic developers, locally and globally, that has not yet led to enough critical discussion on the cultural, and political researchers. The article approaches two views on this impact. One linked to the Athenian urban ruins of the Greek economic recession through which emerged a new (exotic) touristic destination to the European periphery. And the other linked to the politics of the Creative City which function as the main strategy of the present Athens cultural-led gentrification including heritage and planning politics, real estate, touristic, entertainment, and creative industries. The article is setting up a number of important questions to cultural and political researchers about city rebrand processes and the generated change and innovation produced; the social inequalities in particular.
References
Alexandri, Georgia. "Reading Between the Lines: Gentrification Tendencies and Issues of Urban Fear in the Midst of Athens' Crisis," Urban Studies 52, no. 9, (2015):1631-1646. https://doi.org/10.1177/0042098014538680
Alexandri, Georgia. "Planning Gentrification and the 'Absent' State in Athens," International Journal of Urban and Regional Research 41, no. 1, (2018): 36-50.
Antonas, Aristide. Archipelago Of Protocols. Barcelona: dpr, 2016.
Balabanidis, Dimitris, Eva Papatzani, Dimitris Pettas, The Airbnb Short Term Rentals in the Greek Urban Space: Economic, Social and Spatial Effects. Athens: Polis 2021.
Bernt, Matthias, Britta Grell & Andrej Holm. The Berlin Reader: A Compendium on Urban Change and Activism. Bielefeld: Τranscript Verlag, 2013.
Deutsche Welle. "Documenta Art Director Warns Against Nationalism," interview by Adam Szymczyk, 2017. Retrieved September 18, 2022, from: https://www.dw.com/en/documenta-art-director-warns-against-nationalism/a-3823446
Derrida, Jacques. Given Time: I. Counterfeit Money, translated by Peggy Kamuf, Chicago and London: The University of Chicago Press, 1992.
Fokianaki, Iliana & Yanis Varoufakis, "We Come Bearing Gifts," Art Agenda, 2017. Retrieved September 10, 2022, from: https://www.art-adenda.com/criticism.240266/We-come-bearing-gifts-iliana-fokianaki-and-yannis-varoufakis-on-documenta-14-Athens.
Gardner, Anthony & Charles Green, "Post-North? Documenta11 and the Challenges of the "Global" Exhibition." On Curating 33, (2017): 109-121.
Harvey, David. Spaces of Capital: Towards a Critical Geography. Edinburgh: Edinburgh University Press, 2001.
Kouki, Hara, Antonis Liakos, "Narrating the Story of a Failed National Transition: Discourses on the Greek Crisis, 2010-2014," Historein 15, (2015): 49-61. https://doi.org/10.12681/historein.318
Ley, David. Artists, Aestheticisation and the Field of Gentrification, Urban Studies 40, no. 12, (2003): 2527–2544. https://doi.org/10.1080/0042098032000136192
Markusen, Ann, Anne Gadwa. Creative Placemaking, Washington: National Endowment for the Arts, 2010.
Miles, Μalcom. "A Post-Creative City?", Revista crítica de ciências sociais 99, (2013): 123-139.
"Open Letter to the Viewers, Participants and Cultural Workers of Documenta 14," E-Flux, 2017. Retrieved September 22, 2022, from: https://conversations.e-flux.com/t/open-letter-to-the-viewers-participants-and-cultural-workers-of-documenta-14/6393.
Palmer, Robert. Athens City Resilience through Culture, (report). Athens: British Council and 100 Resilient Cities, 2018.
Peck, Jamie. "Struggling with the Creative Class." International Journal Of Urban And Regional Research 29, no. 4, (2005): 740-770. https://doi.org/10.1111/j.1468-2427.2005.00620.x
Perlson, Hili. "The Tao of Szymczyk: Documenta 14 Curator Says to Understand His Show, Forget Everything You Know," Artnet, 2017. Retrieved September 18, 2022 from: https://news.artnet.com/art-world/adam-szymczyk-press-conference-documenta-14-916991.
Preciado, B. Paul. "Athenian Revolts," Libération, 2016. Retrieved September 12, 2022, from: https://www.liberation.fr/debats/2016/12/09/revoltes-atheniennes-par-paul-b-preciado_1534264/.
Rancière, Jacques. The Politics of Aesthetics. The Distribution of the Sensible, (trans. G. Rockhill). London, New York: Continuum, 2004. https://doi.org/10.1017/S2753906700000930
Resilient Athens. Athens Resilience Strategy for 2030: Redefining the City, Report, Athens: Resilient Athens & The City of Athens, 2017.
Sayej, Nadja "Athens-the New Mecca for Street Art?," Travelettes, 2015. Retrieved September 12, 2022, from: https://www.travelettes.net/athens-the-new-mecca-for-street-art/.
Smith, Neil. The New Urban Frontier: Gentrification and the Revenachist City, London: Rutledge, 1996.
Szymczyk, Adam. Documenta 14: Learning from Athens," in 60 Years of Documenta: The Local History of Globalization, Berlin: B&S Siebenhaar, 2015.
Thomas, June Manning. Redevelopment and Race: Planning a Finer City in Postwar Detroit, Baltimore, MD: Johns Hopkins University Press, 1997.
Tziovas, Dimitris, Greece in Crisis: The Cultural Politics of Austerity. London, NewYork: I.B. Tauris, 2017.
Vamvakas, Vassilis, "Athens, an Alternative City. Graffiti and Radical Tourism," in Political and Cultural Aspect of Greek Exiticism. Cham, Switzerland: Palgrave Macmillan, 2020. https://doi.org/10.1016/S1353-4858(20)30070-2
Victoria Square Project in Athens. Lonely Planet, 2022. Retrieved September 12, 2022, from: https://www.lonelyplanet.com/greece/athens/attractions/victoria-square-project/a/poi-sig/1574569/359421.
Weiner, Eric, The Geography of Genius: A Search for the World's Most Creative Places from Ancient Athens to Silicon Valley. New York: Simon & Schuster, 2016.
Weiner, Andrew-Stefan. "The Art Of The Possible: With And Against Documenta." Biennial Foundation Magazine, 2017. Retrieved September 15, 2022, from: https://biennialfoundation.org/2017/08/art-possible-documenta-14/
Zefkili, Despina. "Exercises of Freedom: Documenta 14," Third Text, (n.d.), Retrieved September 15, 2022, from: http://thirdtext.org/exercises-freedom-documenta14.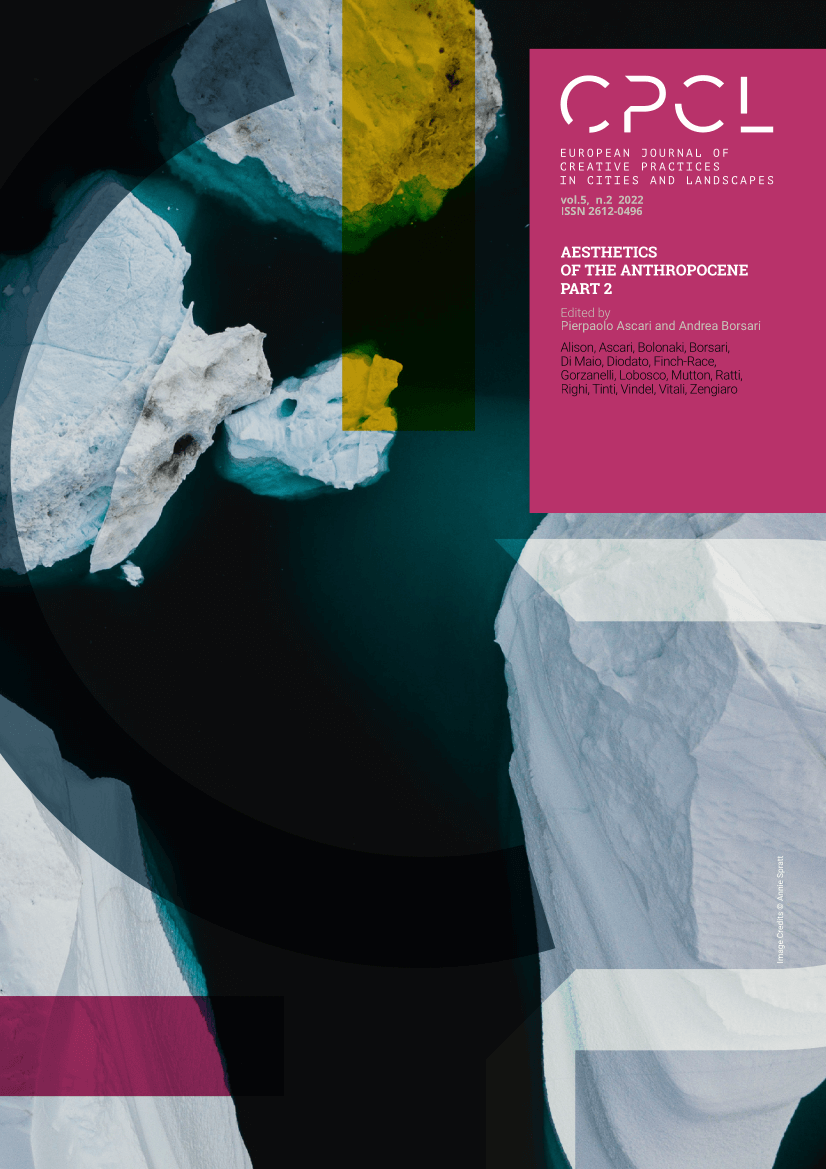 Downloads
How to Cite
Bolonaki, S. (2022). Rebranding Athens as the Creative City of European South. The Contribution of Documenta 14. A Critical Approach. European Journal of Creative Practices in Cities and Landscapes, 5(2), 186–203. https://doi.org/10.6092/issn.2612-0496/13537
License
Copyright (c) 2022 Styliani Bolonaki
This work is licensed under a Creative Commons Attribution 4.0 International License.