Anthropocene as Energy Imaginaries: Fossil Culture between Industrial Revolution and Ecological Crisis
Keywords:
anthropocene, energy imagineries, fossil culture, industrial revolution, global warming
Abstract
This essay proposes a reading of the Anthropocene from the reconstruction of the energy imaginaries at the beginning of industrial civilisation. The transformations that took place in the energy matrix of productive processes, with the new social and geographical organisation of work derived from the use of fossil fuels, had their correlate in the appearance of a series of discourses and images with a strong ideological component. The emergence of thermodynamic science, based on the observation of the processes of energy transformation, was underpinned by narratives oriented to boost the denigration of subjects who resisted integration into the productive devices of the industrial world. These imaginaries contributed to naturalise a certain worldview, where the universe was assimilated to an immense repository of energy at the service of the West civilisational project, where the development of industry should guarantee the production of exponential wealth. In this context, the imaginaries of energy contributed to constituting a new socio-environmental relationship that, for the last two centuries, has conditioned the cultural development of fossil modernity, while generating eco-systemic effects that are at the origin of the climate crisis.
References
Berman, Marshall. All That Is Solid Melts into Air: The Experience of Modernity. London: Verso, 1983.
Castelar, Emilio. "Proyecto de monumento a Colón, ideado por el ingeniero D. Alberto Palacio," La Ilustración Española y Americana 35, 31 (1891): 99-100
Castoriadis, Cornelius. Sujeto y verdad en el mundo histórico-social. Seminarios 1986-1987. La creación humana I. Buenos Aires: Fondo de Cultura Económica, 2004.
Crutzen, Paul J. and Stoermer, Eugene F. "The Anthropocene," Global Change Newsletter 41 (2000): 17-18.
Crutzen, Paul J. "Geology of Mankind," Nature 415 (2002): 23.
Daggett, Cara New. The Birth of Energy. Fossil Fuels, Thermodynamics and the Politics of Work. Durham/London: Duke University Press, 2019.
Eagleton, Terry, Culture. Yale: Yale University Press, 2016.
Fernández Durán, Ramón and González Reyes, Luis. En la espiral de la energía. Historia de la humanidad desde el papel de la energía. Madrid: Libros en acción, 2018, I.
Fisher, Mark. Capitalist Realism: Is There No Alternative? Alresford: Zero Books, 2009.
Fisher, Mark. Ghosts of My Life: Writings on Depression, Hauntology and Lost Futures. Alresford: Zero Books, 2014.
Heidegger, Martin. "The Age of the World Picture," in Science and the Quest for Reality, edited by Alfred I. Tauber. London: Palgrave Macmillan, 1997.
Jameson, Fredric. "Future City," New Left Review 21 (2003): 76.
Kropotkin, Piotr, Mutual Aid. A Factor of Evolution. Manchester: Extending Horizons Books/Porter Sargent Publishers, 1970.
Malm, Andreas. Fossil Capital. The Rise of Steam Power and the Roots of Global Warming. London: Verso, 2016.
Malm, Andreas. "Who Lit This Fire? Approaching the History of the Fossil Economy", Critical Historical Studies 3, 2 (2016): 215-248.
Marx, Karl. Collected Works. Moscow: Progress Publishers, 1975-, V.
Mitchell, Timothy. Carbon Democracy. Political Power in the Age of Oil. London: Verso, 2011.
Moore, Jason W. Capitalism in the Web of Life. London: Verso, 2015.
Polanyi, Karl. The Great Transformation: The Political and Economic Origins of Our Time. Boston: Beacon Press, 2001.
Prieto, Eduardo. Historia medioambiental de la arquitectura. Madrid: Cátedra, 2019.
Stiegler, Bernard. "The Proletarianization of Sensibility," trans. Arne de Boever, Lana Turner. A Journal of Poetry and Opinion, 4 (2011): 124-140.
Traverso, Enzo. Left-Wing Melancholia. Marxism, History and Memory. New York: Columbia University Press, 2019.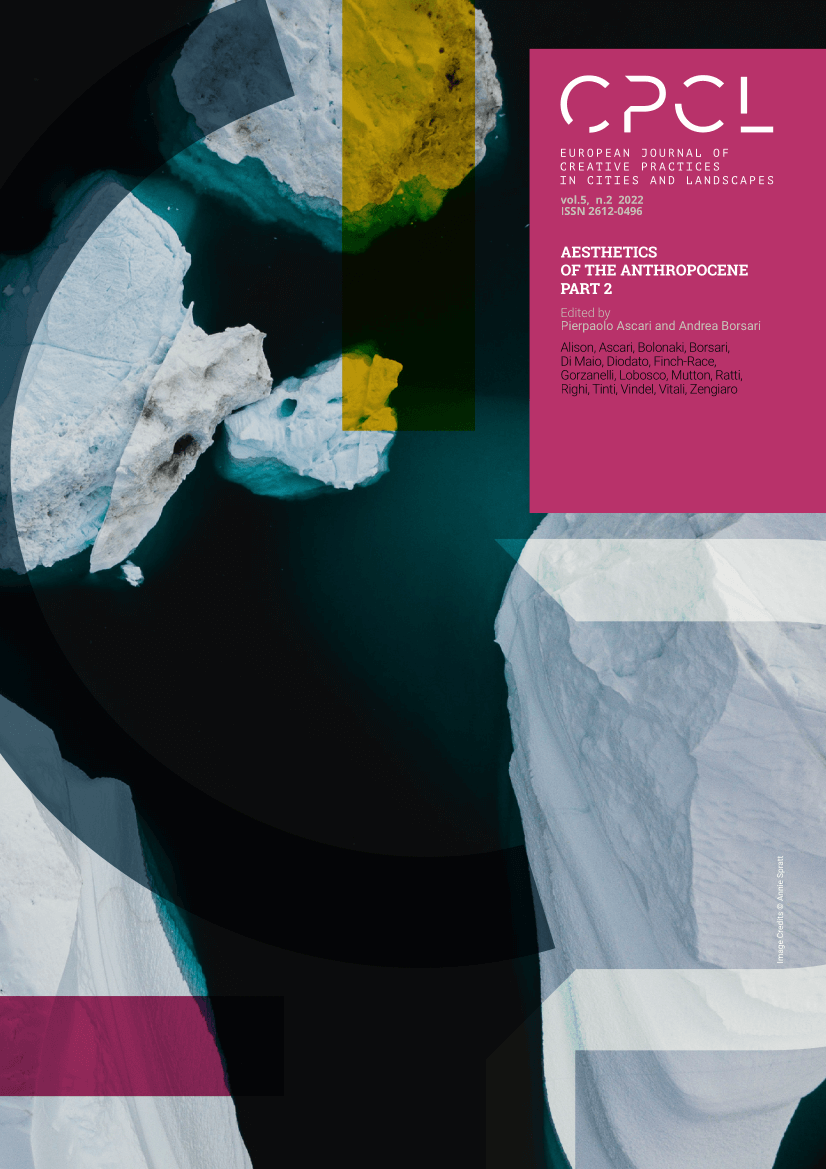 Downloads
How to Cite
Vindel, J. (2022). Anthropocene as Energy Imaginaries: Fossil Culture between Industrial Revolution and Ecological Crisis. European Journal of Creative Practices in Cities and Landscapes, 5(2), 43–60. https://doi.org/10.6092/issn.2612-0496/14657
License
Copyright (c) 2022 Jaime Vindel
This work is licensed under a Creative Commons Attribution 4.0 International License.