Water, Heritage and Sustainability in Practice: the cases of Rochdale and Wrocław
Keywords:
water, heritage, sustainability, flood risk, urban areas
Abstract
Scholars argue that culture can be considered a fourth pillar in sustainable development, however culture is often overlooked in contemporary sustainability discourses and practice. By considering water management and heritage together, practitioners can begin to address this lacuna. It is important to recognize the aesthetic and social importance of water as well as its technical and economic contribution to historical urban development. Presenting two European case studies, this article examines the way in which water management has shaped the design of urban areas and people's interactions with those areas. In the first case, in Rochdale, Manchester (UK), a project that included the deculverting of the River Roch in order to reduce flood risk provided other environmental and social benefits. In the second case, the city of Wrocław, a major flood has led to rethinking the form and function of the city and how citizens engage with it. Lessons from the two cases make it possible to offer recommendations for practice. In an era when climate change demands greater resilience, more attention must be paid to the intimate relationships between water and heritage.
References
Anon. "Thousands pack town centre for 'Revealing the Roch' party", Rochdale Online, 25 June 2016, https://www.rochdaleonline.co.uk/news-features/2/news-headlines/103735/thousands-pack-town-centre-for-revealing-the-roch-party
Baines, Edward. The History of the County Palatine and Duchy of Lancaster. Abingdon-on-Thames: Routledge, 1868.
Dubicki, Afred, Józefa Malinowska-Małek, and Kinga Strońska. "Flood Hazards in the Upper and Middle Odra River Basin – A Short Review over the Last Century." Limnologica, 11th Magdeburg Seminar, October 2004 on Waters in Central and Eastern Europe: Assessment, Protection, Management, 35.3 (2005), 123–31.
Europe, Council of. Heritage for Development in South-East Europe. Council of Europe, 2014.
Glasson, John, Riki Therivel, and Andrew Chadwick. Introduction to Environmental Impact Assessment. Abingdon-on-Thames: Routledge, 2013.
Greater Manchester Combined Authority. "Flood Investigation Report: Greater Manchester. 26 December 2015," 2016. https://www.greatermanchester-ca.gov.uk/media/1261/boxing-day-flood-report.pdf.
Hawkes, Jon. The Fourth Pillar of Sustainability: Culture's Essential Role in Public Planning. Champaign, IL: Common Ground, 2001.
Holloway, James. "Environmental Objectives and Selected Case Studies for De-Culverting the River Roch in Rochdale." Report for Rochdale Borough Council and the Environment Agency. River Restoration Centre, 2012.
Jha, Abhas K., Robin Bloch, and Jessica Lamond. Cities and Flooding: A Guide to Integrated Urban Flood Risk Management for the 21st Century. Washington, DC: World Bank Publications, 2012.
Kundzewicz, Z. W. "The Flood of the Floods—Poland, Summer 1997." In The Extremes of the Extremes: Extraordinary Floods, proceedings of a symposium held in Reykjavik, Iceland, July 2002. Reykjavik: 1A11S Publ. no. 271., 2002.
Mead, Osney. "Rochdale Bridge, Rochdale. Archaeological Deskbased Research and Field Survey Report." Oxford Archaeology North, 2011.
Stinshoff, Richard. "Beyond the Industrial Revolution: The Transformation of Britain's Canals and Their Cultural Meaning." In Thinking Northern: Textures of Identity in the North of England, edited by Christoph Ehland, 257–78. Amsterdam, New York: Rodopi, 2007.
"Urban Water Agenda 2030 | Home." Accessed January 21, 2019. http://urbanwateragenda2030.eu/.
Willems, Willem J. H., and Henk Van Schaik, eds. Water & Heritage: Material, Conceptual and Spiritual Connections. Leiden: Sidestone Press, 2017.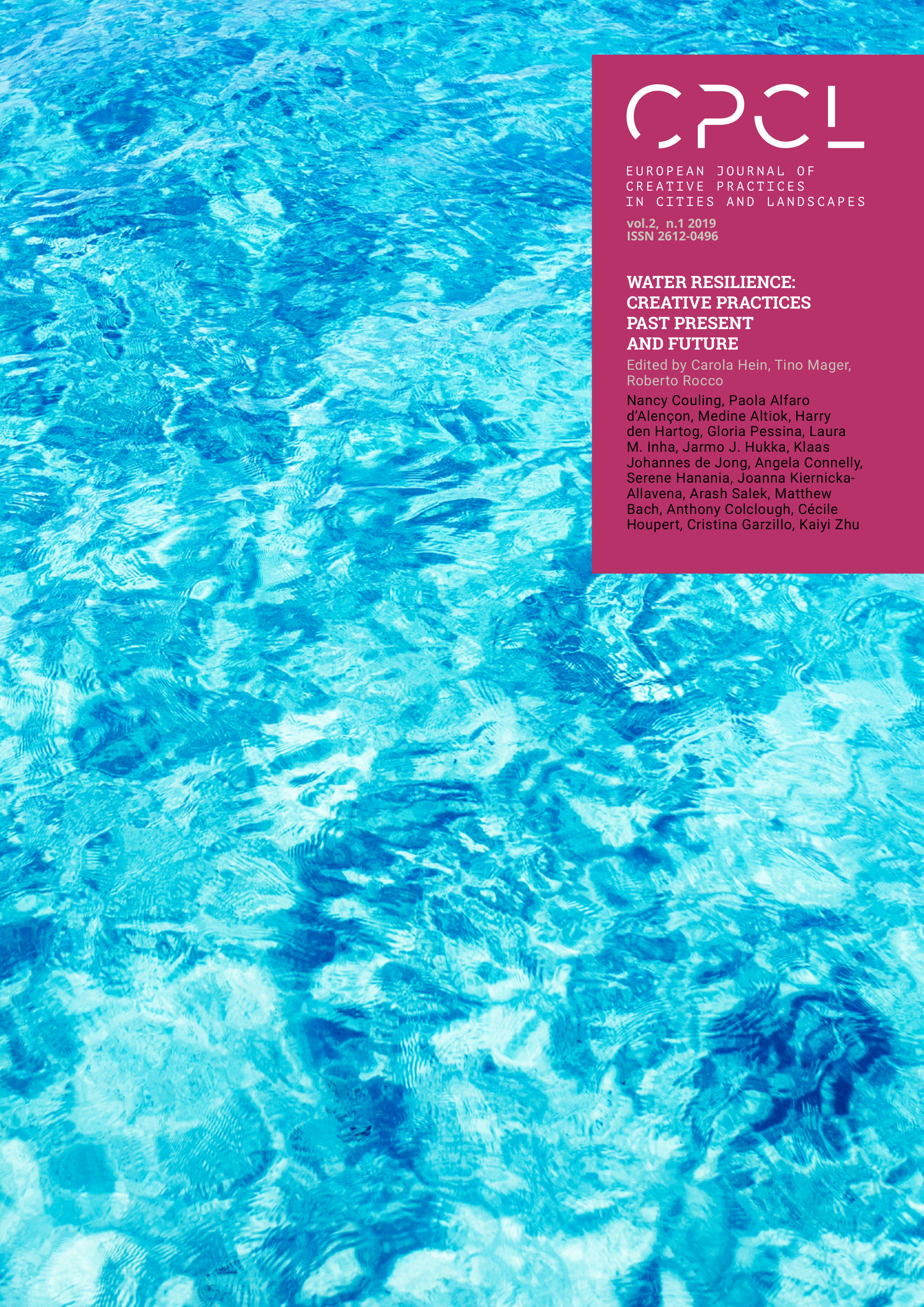 How to Cite
Connelly, A., Hanania, S., & Kiernicka-Allavena, J. (2019). Water, Heritage and Sustainability in Practice: the cases of Rochdale and Wrocław. European Journal of Creative Practices in Cities and Landscapes, 2(1), 139–152. https://doi.org/10.6092/issn.2612-0496/8932
License
Copyright (c) 2019 Angela Connelly, Serene Hanania, Joanna Kiernicka-Allavena
Copyrights and publishing rights of all the texts on this journal belong to the respective authors without restrictions.
This journal is licensed under a Creative Commons Attribution 4.0 International License (full legal code).
See also our Open Access Policy.